6 Recommended Spaces for Filming in Barcelona
The alquiler de localizaciones para rodajes en Barcelona se ha convertido en una tendencia que no para de crecer diariamente. Actualmente, son cada vez más los productores que eligen rodar en espacios ya construidos. Así pues, reservar una localización es una gran oportunidad porque permite rodar en un set mucho más económico y de calidad.
On Spathios, sabemos que la elección del espacio adecuado para una producción audiovisual no es sencilla. A causa de esto, queremos facilitarte esta tarea con estos 6 espacios para tu próximo rodaje en Barcelona. 
Locations for Filming in Barcelona
Este espacio exclusivo ofrece 1.000 m2 de casa y 2.500 m2 de jardín pegado a un parque natural. Con vistas espectaculares al mar y a la montaña. Además, cuenta con un hermoso porche, piscina, gimnasio… ¡y mucho más! Sin duda, perfecta casa para un rodaje en Barcelona.
Este espacio contiene más de 150 m2 diáfanos con luz natural durante todo el día. También incluye una cocina de 25 m2 con isla en ruedas. Si buscas espacios para rodajes en Barcelona, te encantará por sus muebles y estilo únicos… ¿No es increíble?
Loft Industrial y Peculiar en el Centro de Barcelona
Sin duda uno de nuestros espacios favoritos y de los que recomendamos para realizar tu rodaje en Barcelona. Se ubica en una fábrica textil del siglo XIX, concretamente en el barrio más artístico, ecléctico y vibrante de Barcelona. ¿Adivinas cuál es?
ANDste espacio tiene 150 m2 con mucha luz natural durante todo el día. El ambiente principal es totalmente diáfano, con muebles de estilo mid-century. ¡Es una preciosidad!
Espacio Creativo en el Barrio de Gràcia
Esta localización contiene más de 215 m2, con un diseño industrial y moderno.  Su estética favorece a la creación de sets muy versátiles. Además, cuenta con un amplio catálogo de mobiliario y utilería para decorarlo a tu gusto. ¡Mejor imposible para un rodaje en Barcelona!
Nordic and Diaphanous Floor
Este espacio diáfano es de 110 m2. Se caracteriza por ser amplio, polivalente y reformado. Tiene grandes ventanales que dan a un patio interior del ensanche, es muy luminoso y tranquilo. Ofrece un estilo nórdico, cálido y neutro. ¡Es ideal!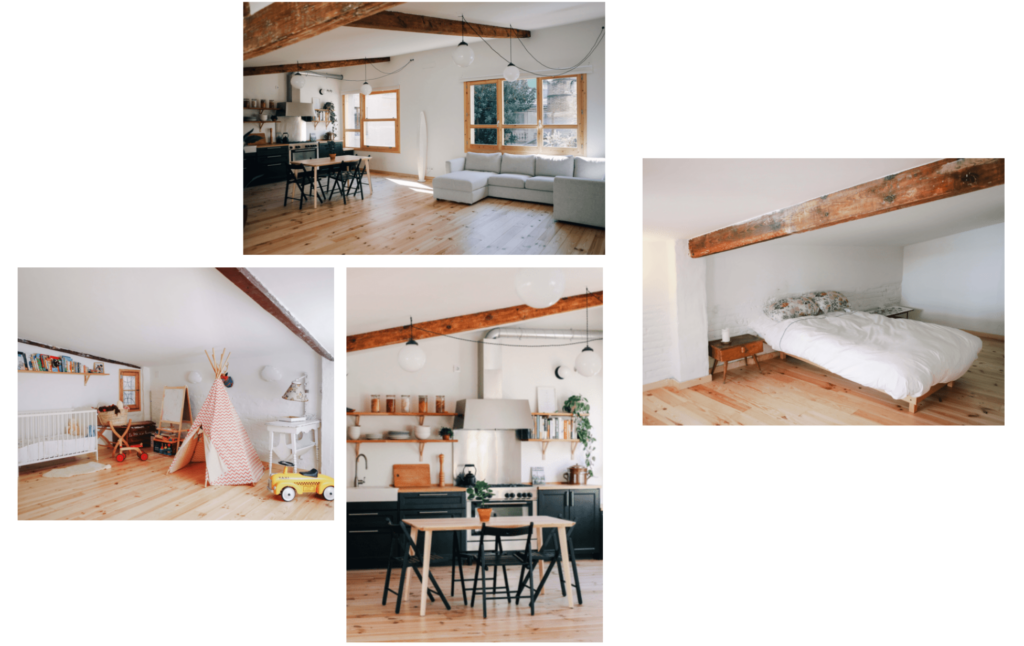 ¡Tenemos muchos más espacios a tu disposición!
En definitiva, contamos con un amplio y variado listado de espacios para rodajes en Barcelona. Ya sea una casa con piscina, una terraza con vistas, un estudio diáfano, un loft versátil, entre muchos más… En Spathios, queremos que encuentres la localización ideal para tu rodaje. Así pues, ponemos todo nuestro esfuerzo para que tu producción sea todo un éxito. 
Filtra los espacios por las características que desees y encuentra precios honestos. El proceso de la reserva es rápido y sencillo. En menos de 3 clics, tendrás el espacio listo para ti. ¿Preparado? ¡Luces, cámara y ACCIÓN!
Search, find, and book the best spaces in your city in just a couple of clicks with Spathios.