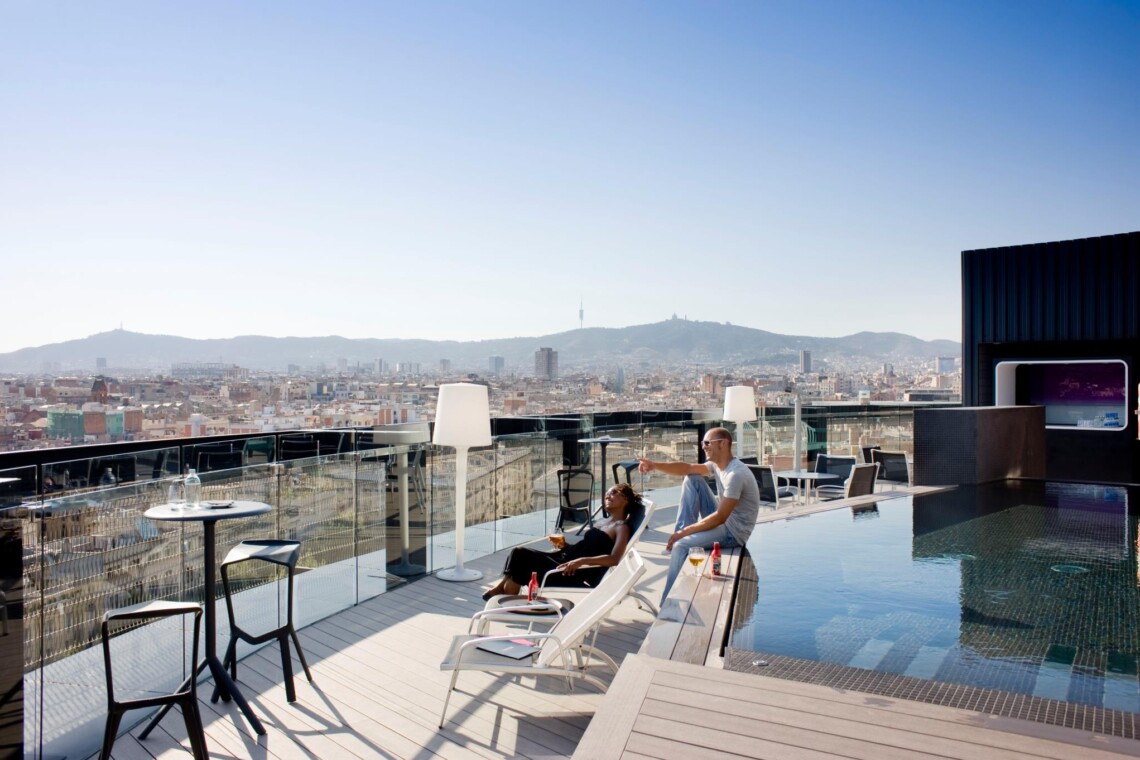 ¿Qué sabes acerca del alquiler de áticos para eventos? Nosotros podemos decirte que hasta hace unos años, realizar eventos en azoteas era algo al alcance de muy pocos. Los hoteles o restaurantes ofrecían sus azoteas a precios muy elevados que muchos no estaban dispuestos a pagar. 
Spathios ha dado un giro a todo esto. La creación de nuestra plataforma hace accesibles las mejores azoteas de tu ciudad, ofreciendo el alquiler de áticos para eventos a precios muy honestos. 
En nuestros áticos puedes realizar todo tipo de eventos (aniversarios, reuniones familiares, cursos, cenas benéficas, entre muchos más). Contamos con una amplia y variada oferta de áticos de alquiler por horas. Por eso, hemos seleccionado los mejores áticos para eventos en Barcelona. ¡No te lo pierdas! 
Las mejores azoteas para eventos en Barcelona
Si te interesan los eventos en áticos, este post te va a ser muy útil. Recuerda que haciendo clic en cada espacio, puedes descubrir todas sus características, ya sea la galería de fotos, la disponibilidad, los servicios extras que ofrece… y mucho más. Allá van 😀

Penthouse with Urban Views and Torre Collserola
Ático de 60m2 con dos ambientes de estilo mediterráneo. Cuenta con muy buena luminosidad, ubicado en una de las zonas más tranquilas de la ciudad. Ofrece una sala y cocina abiertas, además de una terraza ideal para desconectar en buena compañía. ¿Te imaginas tu evento aquí?
Azotea en Zona Alta con Vistas a la Montaña del Tibidabo
Terraza situada en un ático de la zona alta, con vistas a la montaña de Tibidabo. Ideal para celebraciones tranquilas, reuniones de trabajo, rodajes y sesiones de foto. El ático dispone de una cocina rústica de la Bisbal, muy luminosa con grandes ventanales y salida directa a la terraza.
Unique Terrace in Barceloneta
Terraza de 70m2 situada el barrio de la Barceloneta y con unas vistas más que privilegiadas. Dispone de una barbacoa, una barra y una zona chill out. Este espacio es ideal para realizar eventos privados, especialmente por su magnífica ubicación y el buen ambiente que ofrece. ¡Nos encanta!
Terraza Gourmet en Santa Caterina
Azotea privada y luminosa de 45m2 en el corazón de Barcelona. Cuenta con unas vistas espectaculares de Barcelona. Este espacio ofrece una experiencia gastronómica diferente que deleita todos los sentidos, por lo que es muy recomendable reservarlo con el menú incluido. ¿A qué esperas?
Ático Panoramic View frente Montjuic
Entrada privada a la terraza de este ático con terraza y luz, puedes descubrir su pieza secreta al aire libre llena de plantas y con fabulosas vistas de la ciudad. Con una cómoda hamaca y asientos y comedor. Este ático con terraza es un lugar especial en cualquier momento del día o temporada. Perfecto para divertirse, trabajar o relajarse.
¿Por qué alquilar un ático con Spathios?
Spaces for Hire with Spathios
Esperamos que te haya gustado nuestra selección de las mejores azoteas en Barcelona. Si te interesa el alquiler de áticos para eventos, te invitamos a que eches un vistazo a nuestras localizaciones. No hay mejor opción que Spathios, aquí encontrarás un sinfín de espacios para realizar tu próximo evento. 
Sabemos que encontrar el espacio perfecto, no es sencillo. Escoger entre tantas opciones, no suele ser una tarea fácil. Por eso, te recomendamos nuestro buscador personalizado. En este te aconsejaremos los espacios más adecuados a las necesidades de tu evento. 
Search, find and booking los mejores espacios de tu ciudad en tan solo 3 clics.