Lugares alucinantes donde celebrar cumpleaños
Organizar una fiesta de cumpleaños puede ser una tarea un tanto estresante. Encontrar el mejor local en el que disfrutéis de una cena sabrosa y, al mismo tiempo, podáis celebrar un cumpleaños original y diferente no es tan sencillo. Por ese motivo, en Spathios queremos recomendarte los mejores sitios donde celebrar un cumpleaños.
En España hay infinidad de ciudades que ofrecen muchas alternativas y todas apetecibles. Dispone de una oferta muy amplia de espacios para eventos donde celebrar un cumpleaños inolvidable. ¿Quieres conocerlos? 
Espacios para celebrar un cumpleaños
A continuación, te mostramos los mejores espacios para eventos. Si estás organizando un cumpleaños y quieres un poco de inspiración… Allá va 😉 
Local ideal para hacer cualquier tipo de celebraciones en Chamartin, uno de los mejores barrios de Madrid. Cuenta con dos plantas:  
La planta de abajo: es un espacio con escenario, proyector y luces, con una capacidad de 400 personas.  
La parte de arriba:  espacio ideal para 50 personas. En su totalidad puedes tener un aforo de 450 personas.  
Si el evento cuenta con catering incluido, el aforo ideal es de 300 personas. Toma en cuenta que a partir de medianoche de los jueves, viernes y sábados el local se abrirá a todo el público, pudiendo permanecer en él hasta las 6:00 am. 
Autoloft Fourth Floor In Madrid
Loft de tipo industrial de 290 metros cuadrados que cuenta con luz natural directa durante 8 horas a través de grandes ventanales. El espacio cuenta con un montacargas donde se pueden subir vehículos de hasta 3500kg.  Presenta diferentes escenarios que lo hacen un espacio muy versátil. También ofrece la posibilidad de contratar servicio de coches de escena en el loft, catering y servicios audiovisuales.  
Para grupos de entre 10 y 20 personas el precio es de 75 €/hora. Para grupos de entre 20 y 30 personas el precio es de 92 €/hora. 
Multipurpose Space in the Heart of Madrid
El espacio es una sala diáfana de 100 m con con ventilación, luz y capacidad para 160 personas.
Es un espacio escénico para celebrar todo de fiestas. La sala está totalmente equipada con sillas, equipo de audio, proyector y micrófono. Contiguo al espacio escénico se encuentra el restaurante, donde podrás disfrutar de varias opciones de catering. 
Multifunctional Space with Event Room
Nave industrial de 300m2, ubicada en el barrio de La Verneda en Barcelona, bien comunicada con dos líneas de metro y buses, además de contar con estacionamiento gratuito. El espacio cuenta con dos plantas con dos ambientes muy diferentes:  
En la planta baja hay un espacio diáfano e insonorizado, equipado con sonido profesional e iluminación de led RGB multicolor, aire acondicionado y sistema de proyectores para visuales.  
En la segunda planta hay un loft diáfano de 150m2 con cocina, nevera y congelador, sofás, chimenea, aire acondicionado, sonido y proyector.  
¡Importante!
 En este espacio tienes que llevar tu propia bebida y comida. Si quieres que te echemos un cable con el catering, solo tienes que hacérnoslo saber cuando realices tu reserva. 
Great Hall in the Eixample
El espacio es ideal para celebraciones. Cuenta con una superficie 300 m², techos de 5 m, claraboyas de estilo neoyorquino y con una capacidad para 100 personas.
Puedes contratar servicios adicionales como el de altavoces, mixer y camareros.
Sala Cálida y Agradable en el Centro de Valencia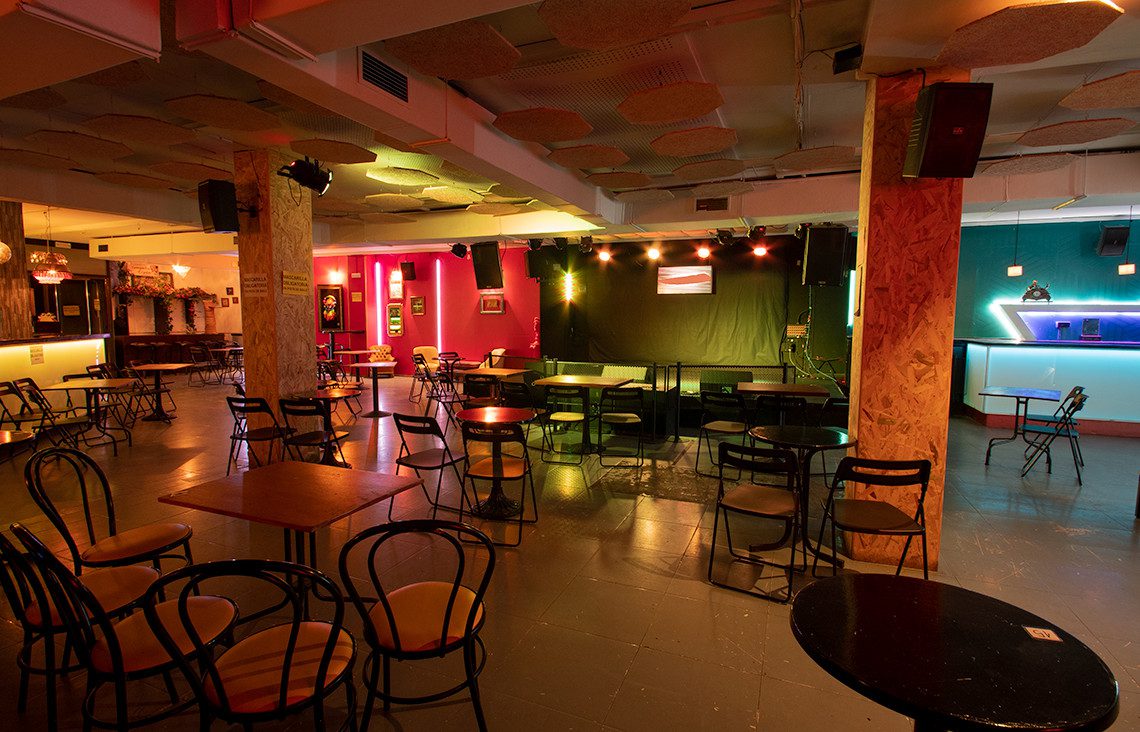 Espacio ideal para hacer fiestas privadas tanto de pie como sentados. Se trata de un espacio diáfano con capacidad de 100 personas sentadas y 150 de pie, con un escenario central, 2 baños con capacidad para 3 personas cada uno , además de 2 barras, y un camerino con llave.
De manera adicional puedes disponer de gente de soporte en barras, catering , técnicos de sonido y djs.
¿Sabes ya dónde celebrar tu fiesta de cumpleaños?
Esperamos que nuestra selección de estos locales para celebraciones te hayan gustado (y mucho). En Spathios estamos a tu disposición para encontrar el mejor espacio para ti. Recuerda que todos nuestros espacios se adaptan al protocolo vigente del coronavirus con el fin de garantizar total seguridad a todos.
Busca, encuentra y reserva el mejor local para tu cumpleaños en tan solo 3 clics. 
¡Buena suerte! 🙂