Find the best ideas and spaces for a proposal
La pedida de mano es un punto de inflexión en la relación de una pareja. Es ese momento en el que decides que quieres pasar el resto de tu vida con esa persona a la que quieres tanto. No te dejes llevar por el arrebato de pasión. Antes, piensa bien si realmente es esa la persona con la que quieres pasar el resto de tu vida.  
Si crees que serás capaz de aguantar esos defectos y manías estate atento a este post. Desde Spathios te vamos a dar algunas ideas y ayudar a elegir la mejor localización para este momento tan inolvidable. ¡Vamos allá!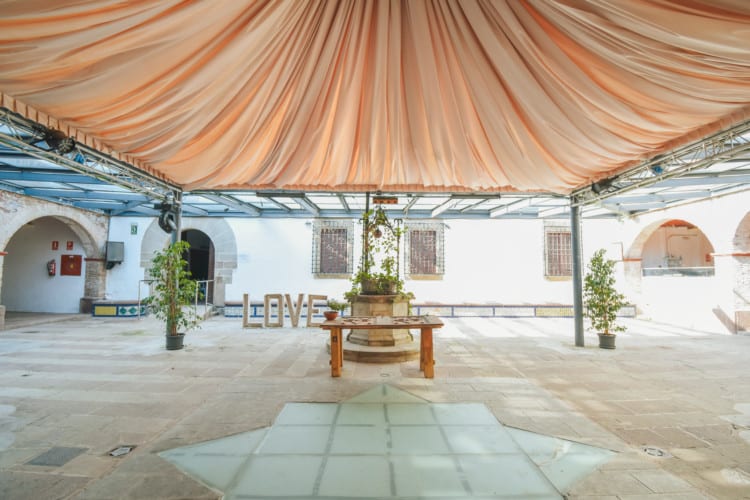 Top 5 mejores lugares fuera de casa para la pedida de mano
Fuera de casa hay miles de magníficas opciones para una pedida de mano. Desde nuestra plataforma te vamos a recomendar 5 ideas perfectas para dejar impresionada a tu pareja y dé el ¡sí quiero! 
1. Recordando vuestras primeras fotos
Lleva a tu pareja a aquel sitio donde quedasteis por primera vez y prepara algunos objetos que creen un ambiente de buenos recuerdos. También podéis ir al lugar donde fue vuestro primer beso o vuestra primera cena juntos. 
Una de las mejores ideas puede ser organizar un viaje con tu pareja. Hay dos destinos en el mundo que condensan más pedidas de mano que ningún otro. Uno de ellos es Nueva York y la otra es París. 
Nueva York está llena de lugares y actividades románticas que puedes hacer, entre ellos una pedida de mano en lo alto del Empire State, uno de los iconos de la ciudad especialmente en San Valentín, o también en pleno Central Park, en el Bow Bridge. 
París es oficialmente la ciudad del amor. No escasean los rincones románticos en los que planear una pedida de mano de cine: la Torre Eiffel, Montmartre, en uno de los puentes que cruzan el río Sena, el museo Rodin… 
3. Después de compartir vuestra actividad favorita
Puede ser una tarde en la montaña, dando un paseo en bici o una clase de baile. Las cosas que compartes junto a tu pareja son el telón de fondo perfecto para empezar una vida juntos, y abrir una nueva etapa llena de recuerdos, nuevos proyectos y actividades. 
Hay pocos escenarios tan románticos como la playa. El atardecer, después de un largo paseo por la orilla, cuando ya no quede casi nadie y sólo se escuche el romper de las olas es un momento perfecto para la pedida de mano. No necesitas nada más.  
Esta pedida de mano es un poco más arriesgada y depende de la personalidad de tu pareja a la que vas a pedir que se case contigo. Hay novias que están encantadas si la pedida de mano es en plena calle; otras se morirían de vergüenza si alguien más asiste a ese momento como espectador. 
Para las pedidas de mano de este estilo, elige bien el sitio y busca emplazamientos con un trasfondo romántico, como los mencionados en París o Nuevas York. 

Top 3 ideas en un espacio privado
Si prefieres algo más íntimo, pero no necesariamente tradicional, realizar la pedida de mano en una casa o espacio privado puede ser siempre una buena opción. Revisa estas ideas y espacios que vamos a recomendarte for sorprender a tu pareja y que acepte la proposición. ¡Estáte atento! 
Con un cómplice, haz que tu pareja salga de la casa por unas horas, o bien, ten todo listo antes de que vuelva del trabajo. Si prepararás una cena procura tener un mantel impecable, un arreglo con las flores favoritas de tu pareja, velas, chocolates y una botella de champagne, y sobre todo prepara esa comida que tanto disfruta la persona que quieres. También puedes crear una lista de vuestras canciones preferidas para musicalizar el momento. 
From Spathios puedes encontrar espacios perfectos para una cena romántica y que tu pedida de mano sea un éxito. Si no sabes todavía cuál seleccionar, te recomendamos una selección de los mejores espacios como los siguientes, en la que podrás realizar todo lo que tienes en mente. 
Otra idea más creativa es preparar un circuito de pistas para que tu pareja se encuentre al llegar a casa. Puedes repartir pistas de recuerdos que tengáis juntos por distintos rincones de la casa con un mensaje que conduzca a una nueva señal. También puedes incorporar acertijos en canciones o frases que te recuerden a la otra persona. Al terminar el camino, encontrará el anillo y será el momento de hacerle la pregunta que tanto tiempo llevabas esperando. 
Desde nuestro seeker puedes encontrar espacios perfectos como los seleccionados, en donde podrás organizar una yincana perfecta para hacer esa pedida de mano original como tenias en mente. 
3. Prepara una proyección
Prepara un vídeo con las imágenes de los mejores momentos que hayáis vividos juntos y que finalice con la pedida. Después de la cena pon el vídeo y sorprende al amor de tu vida con la inesperada petición. Seguro que se emocionará hasta con lágrimas y el video tendrá el mejor final posible. 
You can sellar el momento poniendo esa canción que os identifica como pareja. Adelántate también a los hechos y consigue unas copas para brindar tras escuchar el sí quiero.  
On Spathios puedes reservar espacios como los siguientes que encajen a la perfección, y donde podrás organizar la cena y la proyección de la pedida de mano que estabas pensando.  
Spaces for Hire with Spathios
We hope that our ideas de pedida de mano te hayan sido útiles. Recuerda, que desde Spathios puedes encontrar los mejores espacios para esta proposición o para cualquier otro plan, no dudes en echarle un vistazo a nuestra plataforma. Para ello, tan solo debes utilizar nuestro seeker, filter for the features you want and Reserve el sitio ideal para tu pedida de mano. ¿A qué estás esperando?   
Search, find and booking the best spaces in your city in just a few clicks.