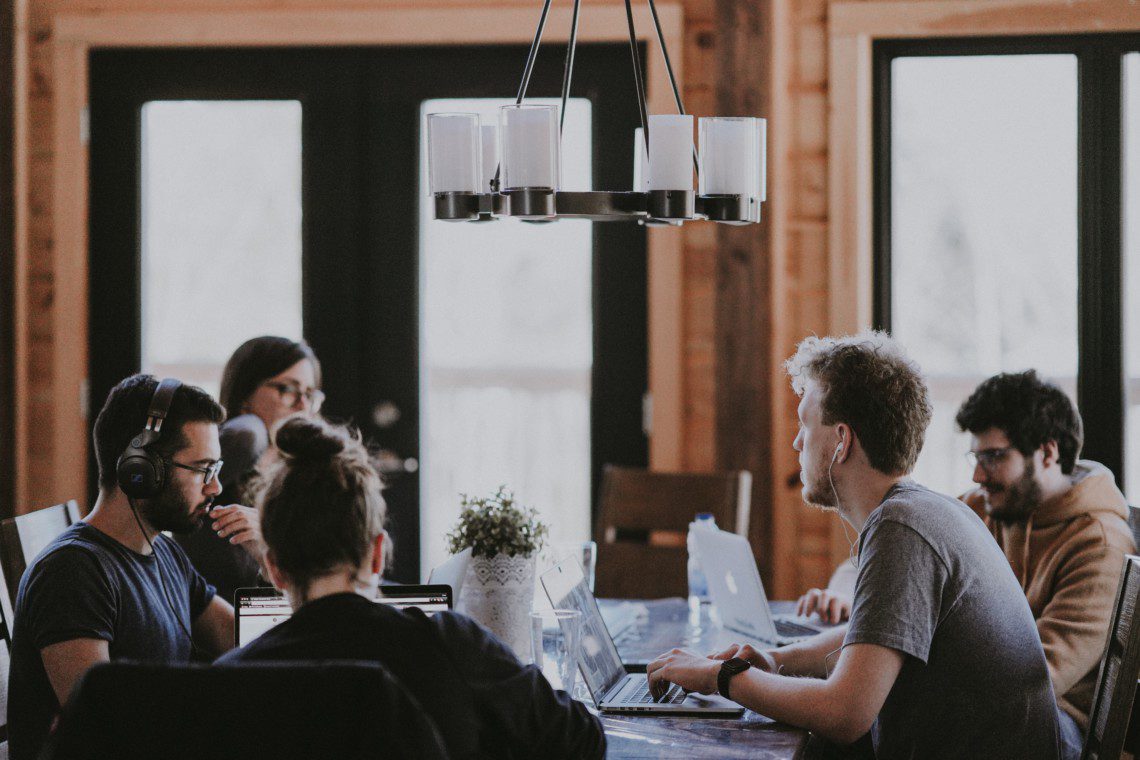 El trabajo en equipo es esencial para que una buena plantilla funcione, ya que sin esto los objetivos y las tareas de una empresa son mucho más complicadas de desarrollar. Un equipo con mala organización puede llegar a conseguir resultados por debajo de lo que realmente podrían conseguir. Todo es cuestión de saber aprovechar las estrategias para trabajar en equipo y multiplicar la productividad. 
From Spathios sabemos la importancia que tiene trabajar en equipo. Es por eso, que en el post de hoy te vamos a dejar unos tips a tener en cuenta para mejorar el trabajo en equipo. ¡Toma nota! 
Para trabajar en equipo no puede faltar una buena comunicación, esta es la base de una buena relación entre compañeros de trabajo. Si no existe entendimiento o si la información no está disponible para todos los miembros en todo momento, podrán sentirse excluidos o diferentes. Contar con unos protocolos de comunicación bien establecidos te ayudará a que los miembros se sientan más integrados y a que todo marche a un mejor ritmo.  
También es fundamental que establezcas las herramientas de comunicación adecuadas. El email, un chat privado con distintos canales, como Teams oSlack, o incluso Skype o llamadas telefónicas, son algunas de las opciones que te puedes plantear.  
Sobre todo, recuerda que todos los miembros del equipo sepan en cada momento qué canal de comunicación han de utilizar y a quién se han de dirigir para que la comunicación sea efectiva. 

Herramientas de gestión de tareas
Existen infinidad de herramientas de trabajo y herramientas de gestión de tareas que podrás utilizar para optimizar tu trabajo como Google Drive, Dropbox, Hootsuite, Asana, BaseCamp o OpenPoject…  
Analiza el funcionamiento de cada una en función del tipo de trabajo y tareas que realiza tu equipo, y define cuales son las más adecuadas para tu empresa. Pregunta también a tus empleados, al fin y al cabo, son ellos quienes las emplearán y quienes, en muchas ocasiones, saben mejor que nadie qué es lo que realmente necesitan para ser más productivos. 
Estas herramientas son una de las estrategias para trabajar en equipo que mejor pueden optimizar el tiempo y mejorar la productividad, pero el uso inadecuado de alguna o el desconocimiento por parte de los empleados de su funcionamiento, puede tener un efecto completamente contrario en los resultados que buscas obtener. 
Otra estrategia que no puede faltar para un buen trabajo en equipo es la de establecer unos objetivos comunes. En el momento en que comienzas a formar a un equipo para tu empresa, es fundamental que, al margen de sus conocimientos y formación, tengas en cuenta sus objetivos laborales. 
Compartir unos valores y filosofía de trabajo es muchas veces más importante que fichar al mejor profesional en cuanto a conocimientos técnicos. Para formar un equipo hay que ver más allá, hay que saber si conectan entre sí y si comparten intereses suficientes como para crear una cultura de empresa coherente. 
Es importante que como líder aprendas a delegar y confiar en el trabajo de tu equipo. Si no lo consigues fácilmente, puede ser debido a dos motivos: 
En el primer caso, busca a nuevos profesionales que de verdad te inspiren confianza. Más allá de sus currículos, es necesario que te sientas identificado con su trabajo y filosofía a la hora de ponerlo en marcha. En el segundo caso, el problema está en ti, delega y confía en el resto de tu equipo. Si no, es que no estás preparado para tener un equipo. 

Crea sentido de pertenencia
Como líderes tienes que saber generar un equilibrio y unión entre las personas que trabajan juntas en nuestra empresa. Crear una cultura de empresa en positivo, donde todos estén al tanto de algunos detalles sobre sus compañeros, es algo que puede mejorar mucho la relación personal entre el equipo, y con ello, que el flujo de trabajo se enriquezca y sea mucho más ameno.  
Algunos detalles como organizar una cena de empresa por Navidad o añadir los cumpleaños de los miembros del equipo al calendario de la empresa, marcarán la diferencia. Son pequeñas ideas para trabajar en equipo mucho mejor. 
Está claro que los errores hay que analizarlos para no volver a cometer el mismo fallo varias veces, pero tan importante es eso como celebrar los resultados y compartirlos. 
Cuando trabajas en equipo es importante que no señales con el dedo a la hora de buscar responsables de los aciertos y errores. ¡Hay que saber compartir todo! Es importante que todos sepan los resultados obtenidos para motivar su actividad y compartir el trabajo bien hecho.
Potencia lo mejor de cada miembro
Si conoces a tu equipo y pides a cada uno que haga aquello que mejor se le dé o que más le guste hacer, conseguirás unos resultados mucho mejores. Sin duda, esta es una de las estrategias para trabajar en equipo que deberías de comenzar a plantearte para mejorar tus resultados. 
Para ello, tendrás que conocer a fondo a las personas con las que trabajas, ya que por mucho que las hayas contratado en función de su experiencia y formación, lo cierto es que los talentos no suelen estar en un curriculum. A medida que trabajes con una persona, lograrás ver mejor sus talentos más destacables, y una vez los tengas identificados ¡utilízalos! 
Algo que cada vez se valora más, especialmente en trabajos donde las actualizaciones de conocimientos son muy importantes, es el tiempo para la formación y la reflexión. Por ejemplo, en departamentos como el de marketing, donde cada mes salen cosas nuevas, resulta vital que todos los miembros del equipo se formen en su día a día. 
Contar con una persona especialmente centrada en formación que pueda generar pequeñas reuniones formativas, es una posibilidad que puedes valorar como estrategia para trabajar en equipo. Otra opción podría ser externalizar esta tarea contando con profesionales expertos en formación de ese tipo de perfiles.  
Si no sabes donde realizar estas formaciones no te preocupes. En Spathios podrás encontrar los mejores espacios para realizar estos talleres formativos con tu equipo. Para ayudarte, te dejamos una selección de las mejores aulas formativas para que tú y tu equipo nunca dejéis de aprender. 
Esperamos que hayas tomado buena nota de nuestras estrategias para trabajar en equipo y multiplicar la productividad, las apliques en tu equipo. Estamos seguros de que notarás que la relación entre los esfuerzos y tiempo invertido, y los resultados obtenidos, es cada vez mejor.  
Also, remember that in Spathios encontrarás una de espacios para formaciones para que puedas poner en marcha el taller o la actividad profesional que tengas en mente. Alquilar el espacio que mejor se ajuste a tus necesidades nunca había sido tan fácil. ¿A qué esperas?    
Search, find and book the best spaces in your city in a couple of clicks.