In Barcelona there is a wide variety of bars, from the most unique and innovative to the most traditional. If you are looking for an authentic experience, the best Barcelona bars that are a bit further off the busy streets can be a great option. Mind you, they can be a bit hard to find if you don't know where to look. 
To help you from Spathios, we have compiled a t-listthree bars in Barcelona that are among the best in the world according to the list The World's 50 Best Bars 2021. In addition, we also leave you a selection of the 3 best bars in Barcelona in Spathios, perfect for you to make your plans with friends. 
Paradise, located at Calle Rere Palau 4, is located on the third position of the ranking. This bar recreates the experience of a hidden speakeasy in it Born neighborhood. The space has a hidden room, a laboratory to create cocktails and a long menu with countless drinks. About twenty people work in the business and the bartenders have more than five years of experience.  
The establishment was born as a bar-cocktail bar in the Raval, on Calle Joaquín Costa 52. It currently occupies the number 11 on the list of the 50 best bars in the world. In this bar they bet on the signature cocktails and prepare vegetarian and vegan versions of dozens of dishes, where they are highly known for his breakfast and brunch offer. 
Yep opened its doors in 2021 by the hand of two world cocktail experts, Marc Alvarez and Simone caporale. The bartenders came together in the middle of this year to create a drinkery house in Muntaner street 108. The purpose of this establishment number 37 on the list, is to bet on all kinds of drinks, from a glass of wine to the most sophisticated cocktail. 

BEST BARS IN BARCELONA BY SPATHIOS
1. Creative venue with bar and music services
This is a place with a harmonious design where its walls and bars absorb you in a very pleasant atmosphere. It has two large spaces, the main one that has a long bar, high tables and leather seats. And a second space that has low tables and sofas, also having a small bar. Also has music and sound equipment if you need it. 
 

2. Cultural bar in the heart of Sants with different atmospheres
This is a cultural bar with different environments. The diaphanous main room of 30 square meters and 5m high has 3 anchorages for acrobatic activities, shibari, aerial yoga…, a bar, a fully equipped kitchen, a small private area with seats for 3-4 people and two toilets. On the second floor, there is a mezzanine with views of the main room and a back room with a terrace and access to the interior patio, ideal for meetings or private workshops. Also has Wifi and sound equipment with Spotify account. 

3. USA 50's themed restaurant
American restaurant set in the 50s where you will find 4 well defined environments: a "route66" garage, an American dinner, New Mexico and hawaii. On the roof part you can see a plane and a sheriff's car. All about your head! This is an original and unique space throughout the authentic decoration with which it counts.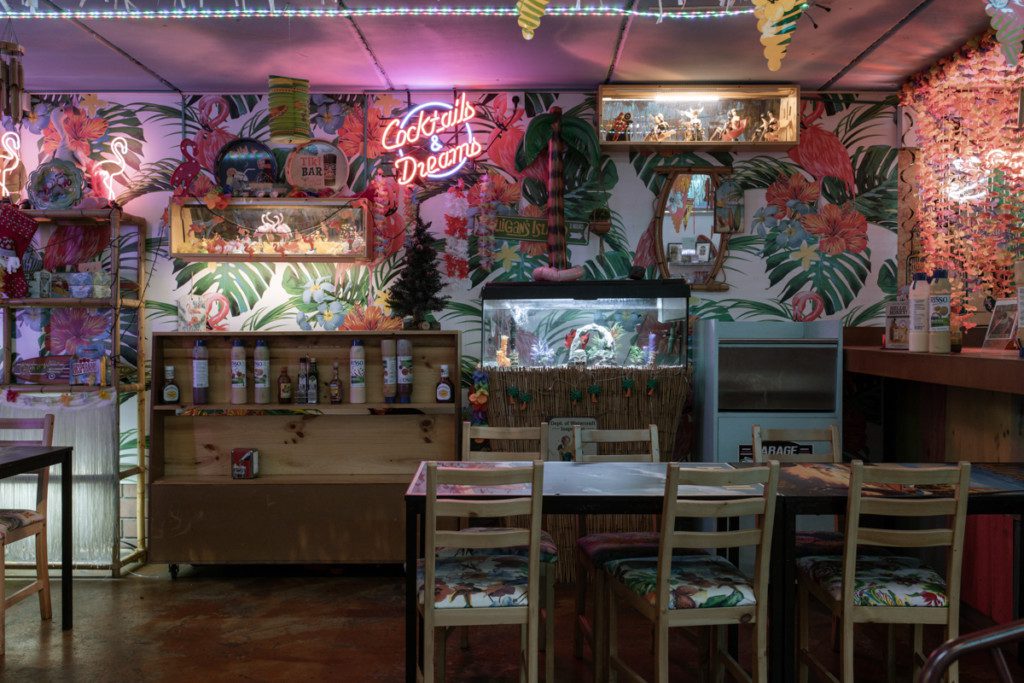 If you are interested in rental of the best bars in Barcelona, we invite you to take a look at our locations. There is no better option than Spathios, here you will find endless options to make your next plan in just three clicks.
Search, find and book the best spaces in your city in just a few clicks.