Ideas for a Child's First Communion
La Primera Comunión es el primer gran evento de todo niño o niña. Es una fecha especial que marcará un antes y un después en su vida. Además de su significado religioso, este acontecimiento supone el fin de una etapa y el comienzo de otra. ¡El niño ya no es tan niño como parece! Así que lo que toca es celebrar por todo lo alto esta efeméride. He aquí las ideas para comuniones originales más interesantes que, sin duda, te servirán de inspiración para preparar la fiesta.
8 Ideas para comuniones originales
Una de las ideas para comuniones originales que nunca falla es instalar un fotomatón en el lugar de celebración.  A estas edades, a los niños les encantan las fotos y están aprendiendo poco a poco a posar, así que estarán encantados con esta propuesta. Además, es una manera de que queden inmortalizados los mejores momentos del evento. Puede ser más que interesante disponer de una cámara instantánea para que los invitados puedan recoger sus fotografías en un santiamén. ¡Ah! Para un fotomatón más divertido, no olvides incluir accesorios como pelucas, gafas y otros detalles.

2. Incluir un candy bar, la mejor idea para una comunión original
¿Quién puede resistirse a un dulce? ¿Y a decenas de ellos? Entre las ideas para comuniones originales más top que podemos ofrecerte está colocar un candy bar o mesa dulce para que todo el mundo pueda servirse en cualquier momento. Sin duda, será el rincón favorito de buena parte de los invitados. Aunque parezca lo contrario, esta idea para celebrar comuniones no tiene por qué resentir el bolsillo, pues lo único que necesitas es un poco de imaginación para la presentación de las chocolatinas, nubes, piruletas y demás golosinas en la mesa. ¡Se te hará la boca agua durante la preparación!
3. Considerar los castillos hinchables
Los castillos hinchables son estupendas ideas para animar comuniones. ¿Has conocido alguna vez a algún niño que no le apasionen? Los momentos de risas y diversión están garantizados con estas instalaciones coloridas que, además, se encargarán de alegrar el decorado. Mientras los peques se lo pasan en grande saltando, los adultos podrán disfrutar tranquilamente de la velada.
4. Adornar las mesas con globos de helio
Para la decoración, no tienes que quebrarte la cabeza en busca de ideas para comuniones originales. Te recomendamos apostar por los globos de helio para los centros de mesa, pues son artículos capaces de crear ambiente al instante. Tú decides la combinación de colores, de formas, etc.

5. Aderezar la Primera Comunión con un espectáculo
¿Qué sería de una fiesta sin el factor sorpresa? Guárdate un as en la manga y organiza un espectáculo para dejar a todos los invitados (y en especial al protagonista del día) con la boca abierta. En este contexto, hay múltiples ideas para comuniones originales que considerar. Por ejemplo, puedes contratar a un mago, a unos acróbatas de circo o, incluso, a un profesional de las pompas de jabón. La sorpresa también puede estar protagonizada por unos payasos o por un show de humor.
6. Sorprender a los invitados con un recuerdo original
Todas estas ideas para comuniones originales dejarán huella en los invitados, pero también puedes hacer que recuerden siempre esta Primera Comunión gracias a los regalos para los asistentes. Diferénciate personalizando al máximo los obsequios de recuerdo. Por ejemplo, puedes entregar a cada invitado una galleta decorada, una libreta personalizada, una bolsita de lavanda, un tarro de chucherías gourmet y un largo etcétera. Para que las buenas sensaciones dominen el ambiente, no olvides dejar en cada asiento una chapa de la Primera Comunión para que todos la luzcan durante la celebración.
7. Preparar un libro de firmas de la Comunión
Una estupenda idea para comuniones originales puede ser disponer de un libro de firmas para que cada invitado deje una pequeña impresión personal antes de marcharse de la fiesta. Sin duda, no hay mejor recordatorio de un día perfecto que los buenos deseos de los seres queridos. Tras la celebración, puede ser una buena idea pegar fotografías al álbum para que quede constancia de los momentos más especiales del evento.
8. Instalar una fuente de palomitas
¿Qué les encanta especialmente a los niños aparte de las golosinas? Sí, ¡has acertado! Las palomitas. Por esta razón, colocar una máquina de hacer palomitas en algún lugar estratégico de la fiesta puede ser una de las ideas para comuniones originales más apropiadas. Puedes situar dos cubos: uno con palomitas saladas y otro que contenga palomitas dulces. Asimismo, valora acompañar estos cubos con diferentes toppings para que cada uno se sirva lo que más le apetezca.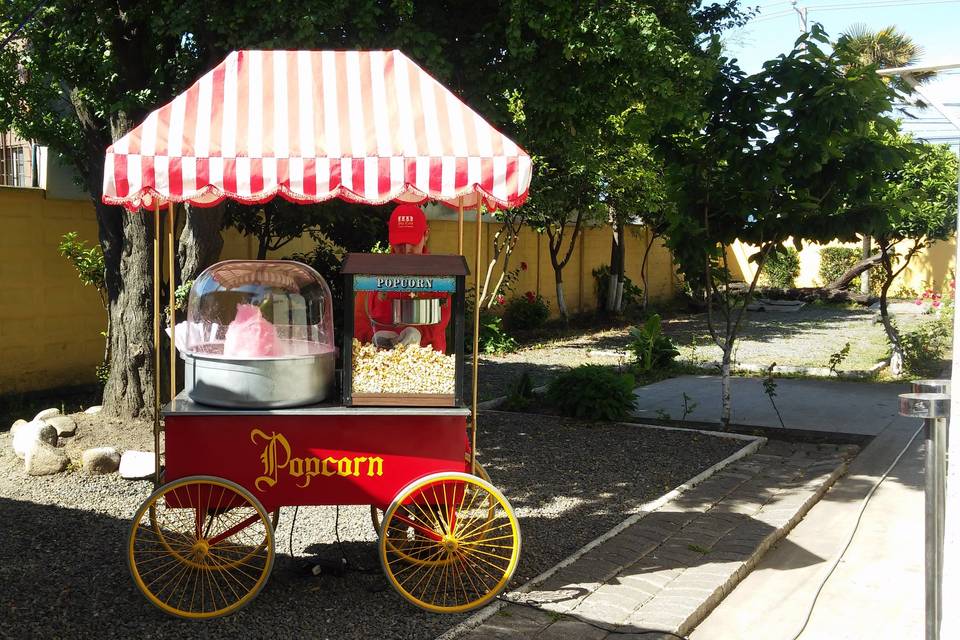 Enclaves mágicos donde celebrar comuniones
La Primera Comunión es un día muy esperado tanto por el protagonista de ese día como por su familia. Los niños se preparan para este acontecimiento con varios meses de antelación, por lo que todos ansían que sea perfecto. En este sentido, es muy importante seleccionar el mejor espacio donde celebrar comuniones.
No importa en la ciudad que residas, pues en Spathios puedes encontrar locales y espacios en las principales ciudades de España. ¿Tienes en mente una fiesta al aire libre? Entonces, una masía singular o una finca rústica puede ser exactamente lo que estás buscando si te apetece naturaleza y ambiente señorial.
Si prefieres un espacio más exclusivo, ficha las villas de lujo disponibles en Spathios. ¿Qué tienen estos lugares de especial? Son espacios que combinan las estancias elegantes y los detalles cuidados con la comodidad. Muchos tienen piscina, por lo que si hace sol, ¡no olvides decir a los invitados que traigan el bañador!
Otra opción es celebrar la Primera Comunión en un espacio gastronómico. Estos rincones son idóneos si estás pensando en un evento íntimo con no demasiados invitados. Para ayudarte, te dejamos una selección con los mejores espacios para celebrar este día tan importante.
Spaces for Hire with Spathios
Esperamos que nuestras recomendaciones de ideas para comuniones originales te hayan sido útiles. Recuerda, que desde Spathios puedes encontrar los mejores espacios para celebrar este día tan especial, no dudes en echarle un vistazo a nuestra plataforma. Para ello, tan solo debes utilizar nuestro seeker, filter for the features you want and Reserve the ideal place for your special day. What are you waiting for?   
Search, find and booking the best spaces in your city in just a few clicks.