Lujosa Casa con Jardín de 5.000 m²
Pineda Feu, Lliça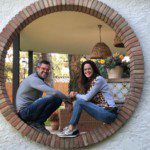 About the space
Tras la entrada principal se abre ante ti un jardín de 5.000 m² que rodea y envuelve de paz la preciosa casa situada más adelante. Avanzas por el caminito de color cobre, a la izquierda ves una barbacoa de obra y al fondo a la derecha la piscina, esperándote. Justo en frente de ti se alza un imponente cedro centenario que te da la bienvenida. Una vez dentro, a la izquierda tienes un espacioso salón equipado con aire acondicionado, televisión de 60 pulgadas, techos abovedados tradicionales y todas las comodidades que puedas necesitar. Si giras a la derecha llegas a la cocina, más de 30 m² destinados a que tu experiencia gastronómica sea lo más agradable posible. Una cocina de auténtico lujo completamente equipada. Incluye una mesa para diez personas fabricada en madera maciza, ventanales que inundan la estancia de luz y una puerta de salida al jardín. También en la plata baja encuentras una de las 5 habitaciones y un baño completo.
Subimos las escaleras iluminadas por un ventanal de dos plantas. En el piso de arriba encontramos el resto habitaciones. Decoradas con exquisito gusto, todas disponen de balcón al exterior. El dormitorio principal incluye también una terraza privada de 30 metros cuadrados a 3 vientos y aire acondicionado. Sales fuera otra vez, reina la calma. Caminas irremediablemente atraído hacia las tumbonas y la piscina. Descubres que está adaptada para niños y personas mayores, con un doble suelo que permite que disfruten del agua sin que les cubra. Detrás de la casa, el jardín continúa de una forma más tranquila. A la sombra de encinas centenarias que se mecen al compás de la brisa y del trinar suave de los pájaros. Al fondo se alza una estructura de obra diáfana con sofás, butacas y una barra americana. Todo está cuidadosamente pensado para que disfrutéis de la calma y la tranquilidad que este privilegiado entorno os ofrece.
Characteristics
Amenities
Air conditioning
Barbecue
Freezer
Cutlery
Spotlights
Gas stove
Oven
Sink
Tables
Microwave
Fridge
Swimming pool
Chairs
Sofas
TV
Hobs
Wi-Fi
Parking options
Prices
Price hour: 300€
Minimum booking hours: 6
Cleaning: 400€
Deposit: 1.000€
Allow additional people: Yes
Cost per additional person: 20€
Weekends (Sat & Sun):

Price hour: 500€
Minimum hours: 6
Space Rules
Smoking allowed: No
Pet friendly: No
Bring food and refreshments: Yes
Bring alcoholic beverages: Yes
Minors allowed: Yes
The host will be present during your booking: Yes
Cancellation policy
Guests can cancel their booking up to 30 days before the event and receive a full refund (excluding processing fees) of their booking price.

Guests may cancel their booking between 30 days and 7 days before the event and receive a 50% refund (excluding processing fees) of their booking price.

Booking cancellations submitted less than 7 days before the event are non-refundable.