Vivienda en Antiguo Garaje
Madrid, Madrid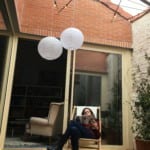 About the space
Se trata de un antiguo garaje reconvertido en vivienda donde la luz es la protagonista del espacio. Se accede desde la calle mediante un espacio túnel dividido en un zaguán, una sala diáfana, una pequeña oficina y se llega a una nave de 4,5m de altura con un patio interior. Cerchas de hormigón prefabricado conforman la estructura de la cubierta, es una solución constructiva poco habitual para espacios industriales, donde son más comunes las cerchas metálicas. La nave en su cara sur aloja 4 habitaciones y dos baños siendo el resto del espacio diáfano para el comedor, cocina, patio y salón. Tiene una superficie de 180 m².
Characteristics
Amenities
Barbecue
Freezer
Oven
Sink
Tables
Microwave
Fridge
Chairs
Sofas
TV
Hobs
Parking options
Prices
Price hour: 100€
Minimum booking hours: 4
Cleaning: 100€
Deposit: 600€
Allow additional people: No
Weekends (Fri & Sat):

Price hour: 120€
Minimum hours: 4
Space Rules
Smoking allowed: No
Pet friendly: Yes
Bring food and refreshments: Yes
Bring alcoholic beverages: Yes
Minors allowed: Yes
The host will be present during your booking: Yes
Additional rules
El espacio se alquila para producciones audiovisuales, no para eventos.
Cancellation policy
Guests can cancel their booking up to 7 days before the event starts and will receive a full refund (excluding processing fees) of their booking price.

Guests may cancel their booking between 7 days and 24 hours before the event and receive a 50% refund (excluding processing fees) of their booking price.

Booking cancellations submitted less than 24 hours before the event are non-refundable.